What is ORGANIZING Mind over Matter?
A professional organizing business owned by trained and experienced Utah organizer, Vicki Winterton. Vicki sets in place home customized systems and tools tailored to your specific needs. We are not a housecleaning service. (Being tidy is not the same as being organized. Living organized is an orderly way of living.) If you prefer Vicki can bring with her a team of up to four additional organizers to get the job completed quickly. Vicki and her team do organizing work primarily in the Salt Lake Valley and Utah Valley areas and everywhere else by phone, facetime, or skype.
What are the benefits of hiring a Utah organizer from ORGANIZING Mind over Matter?
(1) More Leisure Time   (2) More Peace in Your Life  
(3) Long-Term Change   (4) Non-Judgmental and Confidential Help
What type of people hire a Utah organizer?  
Homeowners just like you who need help putting their homes in order with organized home management systems and routines:
__ _ __ _ __ _ __ _ __ _     
About 1/2 of our clients live very organized lives already. They just want to fine-tune their spaces for optimum functionality.

Vicki is hired often to help with the functionality of new homes as they are being designed and built throughout the state.

She also helps senior clients downsize as thy move from a large home to a smaller home or care-center.

And finally, Vicki is trained to work with chronically disorganized people (those with ADD / ADHD, OCD, and individuals who hoard) who have struggled with leading a highly functional life without the trained professional help she provides.
What can you expect when working with Vicki at ORGANIZING Mind over Matter?
• Confidentiality: We adhere to a strict code of ethics and have a signed confidentiality policy with our clients. All personal, financial, or other confidential information will not be revealed to anyone else.
• A Client Satisfaction Guarantee: Our contract with our clients guarantees that if we fail to meet any of the proposed solutions, we will schedule a free session within 30 days of completion to make necessary adjustments to ensure complete satisfaction.
• Convenient Appointments: We schedule appointments at the most convenient times for you as much as we are able.
• Reasonable Rates: Lucky you! Because you've contacted this Utah organizer, you will pay less for organizing help than in nearly every other part of the country. Our fees are compensatory to the amount of training, experience, and speed we bring to each new job. The thing that sets us apart from other organizers is that we provide training as we work beside our clients so they can easily maintain the spaces we help them organize. We offer half day, full day, and full week package pricing.  Please contact us to ask about our fee structure. If you prefer credit card payments, we accept all major credit cards through PayPal online banking.
• No Judgements: Please, don't be embarrassed. Your house or home office will not be the worst we've ever seen. We come to you to offer solutions, NOT judgement.
• Life Changing Ideas: Not only do we offer hands on assistance to clear, categorize, and contain your items; but we train you as we go so routine maintenance is easy. After working on two or three spaces with us, 85% of our clients have learned how to best organize other areas of concern in their homes on their own. They finally have the missing insights to organized success.
• Personalized Organizing Systems: After analyzing your daily routines and practices, we will suggest organization systems to best meet your personal needs and habits.
• Professionalism: Vicki is a professional organizer dedicated to her profession. She was a founding officer in the Utah NAPO CIF group for 7 years. She will not force you to throw away your stuff. Organized does not mean "empty". She will make suggestions to help you decide which items are of great value to you and which are no longer of much use.
• Long-Term Organizing Solutions: After working on two or three spaces with us, 85% of our clients have learned how to best organize other areas of concern in their homes on their own. They finally have the missing insights to organized success.
• Quick Results: Our clients will tell you, we don't waste time! Vicki is very good at sizing up a situation quickly, rolling up her sleeves, and getting started. You will see results after our very first working session.
When will I know the work is done?
When you have a GOOD place for everything in the space(s) you hire us to organize.
What Vicki will expect from you:
• An open mind.
• Uninterrupted time as we work together on projects.
• A desire to maintain the systems we put in place for success.
How should you prepare for Vicki's initial analysis visit?
• Ask yourself this question, "Why did I make this appointment and what do I want to change?"
• Choose where you would like to begin
• Turn on your answering machine.
• Line up a sitter so we can communicate without interruptions.
• Don't worry about sprucing up. It helps us to view how you utilize the space on a day-to-day basis.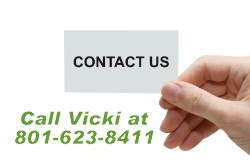 Contact us now for your FREE 20 minute phone consultation.
Relax…
Vicki has done this hundreds of times. She will guide you through the process you have struggled with up to this point. Organizing becomes "do-able" when you have a trained and experienced Utah organizer working beside you!
___________________________________________________________