GIFT CERTIFICATES for Utah Organization Help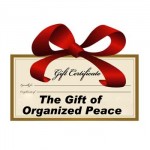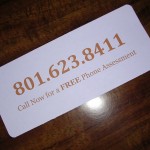 Utah organization help for someone you love is easy with an ORGANIZING Mind over Matter gift certificate. Consider giving the gift of organization with our hands-on services for occasions such as:
Mothers Day
Fathers Day
Christmas
Weddings
Birthdays
The gift of organizing  is a unique, clutter-free gift that will be remembered for many years to come and will be forever appreciated.  If you've heard a Utah located loved one mention they would like to get their papers, home spaces, or life in order; organization help is something they would value. We accept all major credit cards through our PayPal account or you can mail us a check.
Here are the stories of two of our clients. They were people who had not known how to organize their homes and received our services as a thoughtful gift:
In the 1st instance, a caring daughter heard her mother say a few times in frustration, "I don't know WHAT to do with all these papers!" After receiving a Mothers Day gift certificate for organization help and then working beside Vicki for 1/2 day, Laurie of Orem had four (4) systems in place to house ALL her papers from there on in. Her new paper systems allowed her to file AND find what she needed quickly. Laurie was a grateful mother!
In the 2nd instance, a wise husband heard his frustrated wife say once again, "I'm just NOT an organized person!" Susan had tried many times to organize her small Alpine home and had failed. After the necessary organization training of working beside Vicki on three (3) home spaces, Susan knew that she WAS able to organize and maintain. She organized the rest of her home completely on her own. Side-by-side organization help allowed Susan to FEEL success. Susan was a grateful wife!
At ORGANIZING Mind over Matter, we offer quality organization help at affordable prices. We service the Salt Lake, Park City and Utah Valley areas. We develop organizing solutions that are customized, simplified, and maintainable. We can customize gift certificates in price ranges from $50 to $2,000. Some of our most popular reduced-rate packages include these:
Half Day Package *** $200 = We will conduct a phone analysis to determine the needs and goals of your gift certificate recipient for any one room of their home. Vicki will then talk them through her "formula to success" for organizing that specific home space. We include photos of additional organizing products that would be of greatest help to them, as well as suggestions of where they can purchase the products at best prices. Your gift certificate recipient can video record their instruction time with Vicki so they have no questions after she exits the front door. This is a four (4)  hour organizing session that is ideal for someone who can finish the work alone, but needs the "proven best solutions" to get the project started.

Full Day Package *** $325 = Seven (7) total hours are included in this full day package. Vicki will conduct a phone analysis to determine the needs and goals of your gift certificate recipient. After the phone analysis, the work actually begins on-site with their first prioritized space. Vicki works side-by-side with your recipient and assigns homework to be completed before the follow up phone call she will schedule to boost accountability. Vicki transfers knowledge AND skills so easy maintenance is achievable.
Full Week Package *** $1500 = Thirty-five (35) total hours are included in this all inclusive package. The work Vicki does here is the same as in the previous packages. The only change is that she can invest more time in transferring knowledge and building skills so your gift certificate recipient can enjoy a greater positive change in their mental, spiritual, and physical well-being.
Note: Prices for organization packages are based on one professional organizer and do not include supplies. After six (6) months, purchased but unused gift certificates will be considered void. Jobs located more than 30 minutes from our office will incur a slight travel fee to cover mileage, gas, and time. Each of the three (3) packages listed includes one trip to the donation stop of the recipients choice.
Contact Vicki by email or by phone at 801-623-8411 if you have any questions about our gift certificate options. Sometimes getting organized is not a luxury, it is a necessity. We offer Utah organization help so YOU can bring order & peace of mind into the life of someone you love who lives in the great state of Utah!