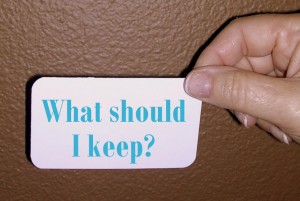 Do you want to get on with the business of organizing your home by downsizing your stuff? Well…it's your lucky day! I am a Utah based professional organizer who services clients through out the state of Utah and I am here to answer those questions for you. Please begin by watching the TV segment I recorded recently. It has some great info for you, THEN read on to learn even more!
__ _ __ _ __ _ __ _ __ _   
Look over the 'What to Keep List' below and begin with YOUR #1 concern. Use the questions next to the links to clarify what you should keep:
Kitchen gadgets – Ask, "Where exactly is this going to go?"
Clothing items – Ask, "Do I really need more than ___ of this item?"

Children's school keepsakes

– Ask, "Is this a true favorite? OR does it represent my child at this stage of life"
Garage sports equipment – Ask, "Have I used this in the past year?"

Important Papers Retention Guide

– Ask, "What is the worst that can happen if I let this go?"
Things of sentimental value – Ask, "Does this item best represent my memory?"
Each of the above links will give you some great information on organizing your home and will begin the forward movement you have been longing for. PLEASE, leave a comment and share with us which of the 6 home areas is easiest for you to keep organized and why. Others can learn from your experience!
(The 2 free downloads mentioned in the video have expired. I do still offer them to my clients.)  IF you get stuck on what to keep OR if you've tried organizing on your own and just can't do it, contact me, Vicki, at Organizing Mind over Matter. I am trained and experienced to help you with organizing your home spaces quickly and easily.
8 Responses to "Organizing Your Home"
Leave a Reply