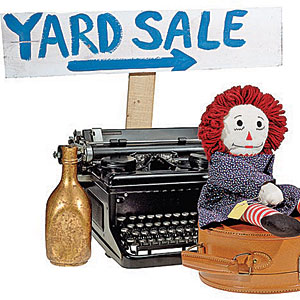 I know you have asked yourself, "Is organizing a yard sale worth the effort?" Listed here are the 'how to's' of organizing a yard sale that IS worth your time and effort.  My 5 step SPARK formula is your secret to success. It walks you through the needed planning and progression of a yard sale worth holding.
The first step in organizing a yard sale is to Scout-out other yard sales THEN advertise:
The week before you price your items, visit other yard sales to see what items are really selling for.

Place an ad in the local printed newspaper, craigslist and local online newspapers. (Be sure to include a "NO early birds notice.)

Put a banner on the corner of a busy street near your home.  Very large print and an arrow is necessary.

Put balloons in front of your home to draw attention.
Prepare well when organizing a yard sale:
Clear your yard of "not for sale" items. If your croquet set is not for sale get it out of the way.

Assign one major (you) AND 1 minor administrator (a friend or family member) to be in attendance at all times.

Remember to have a few helpful items on hand   1) mirror 2) b

atteries for testing electronics 3) bags for carry out.

Keep for sale items off the ground by placing on tables. String a clothes line for hung clothing.
Assign a "fair market" price when organizing a yard sale
Set your price at ¼ the original cost THEN reduce it a little more for hagglers.

Gather $50 in small bills and coins to start – a muffin tin works great for small change.

Slash prices another 50% the last hour to get rid of the left-overs.

Divide your selling space into 4 quadrants

Quadrant 1 = items that are $1 or less

Quadrant 2 = items that are $2

Quadrant 3 = items that are $5

Quadrant 4 = items that are $10 and up (Place your pay station here so you can keep an eye on your most costly items.)
Remove what's left - Don't let your yard sale left-overs back into YOUR home and don't hold on to them for your next yard sale. If you advertised and priced to sell, they will sell no better next week. Prearrange for your favorite charity to pick up the left-overs 1/2 hour after your yard sale ends.
Keep your now clutter-free spaces decluttered with an investment of 10 to 15 minutes a day per room. Relax and enjoy your new clutter free spaces! Organizing a yard sale may be just what you need to get your home spaces shapped up!
Other topics of interest:
Once you know the formula for organizing a yard sale…it's easy. Act now and add a little SPARK to your summer months!
4 Responses to "Organizing a Yard Sale"
Leave a Reply