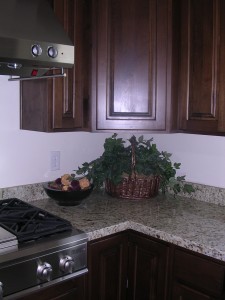 Are you ready to organize the kitchen?  I have some simple solutions for you to consider.  The great news is…after you organize the kitchen, you will be able to use your kitchen space more effectively.  Review my ACT and SPARK formulas to begin.  Remember, when you are sorting and assigning items it is to very useful to have them stored where they will be used.  A simple example, store the pots and pans near the stove.  Read on for more great ideas!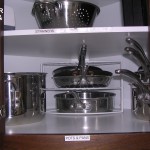 Simple Ideas to Organize the Kitchen:
Organize the kitchen by clearing off the counters. The only things that should be left on your counter top are the kitchen appliances you use on a daily basis.
Use large drawer organizers for cooking utensils. One of my favorite kitchen storage tools is a spring loaded drawer divider.
Under cabinet towel racks or paper towel holders save valuable under-sink space.
Organize the kitchen foods like flour, sugar, beans, rice, etc., in clear storage containers for easy view-ability. My Household / Family Manager Binder Kit has a whole section devoted to kitchen organization.
Organize the Kitchen with a spice turntable or spice steps.
Store matching plates, bowls, and cups in a cabinet with a glass door for a designer look.
Use kitchen organizing products to utilize your cabinet space. Best buying options are part of my Kitchen Organizing Mastery Set. Click here.
If you are short on space, organize the kitchen by hanging pots and pans on a rack hung from the ceiling.
The kitchen is the most used room in the home. Organize the family kitchen with a family management center. Here you will contain your shopping lists, family calendar, an inbox for incoming mail, a coupons binder, a notepad to contain memos to self, etc. The household / family management binder kit link above offers you the detailed steps and products you need to put this system in place.
Check out my appearance on KSL TV. Maximizing kitchen storage was the topic.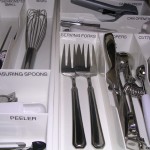 When your kitchen is organized your heart is happy!  Spend 15 minutes after each meal putting everything back where it belongs.
If you need side-by-side help to zone and organize the kitchen contact  us or snatch-up  my highly regarded kitchen mastery set here through PayPal payment that I offer those who could do it themselves IF ONLY they had step-by-step directions and best product suggestions.
4 Responses to "Organize the Kitchen"
Leave a Reply