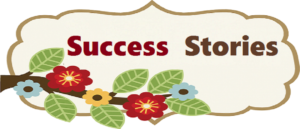 This week I received a phone call from a woman (a new grandmother wanting to help) who was looking for some help for her daughter who felt a need to organize kitchen pantry shelves in her new home. This young mother, Seneca, had birthed a beautiful new baby girl five days earlier. The week before that, Seneca and her husband had moved into a new home. How is that for bringing on some MAJOR OVERWHELM!
I knew that in one morning I could easily organize the pantry and could then spend the afternoon organizing another room in Seneca's new home so I suggested to Seneca my one day home organizing package so I could save her a little money. Take a look at the before and after photos Seneca took.  You can see in the before photo that Seneca had planned to organize by buying a few home organizing tools but she had not had the time, energy, or the detailed knowledge she felt she needed to tackle her pantry.
_ __ _ __ _ __ _ __ _ __ _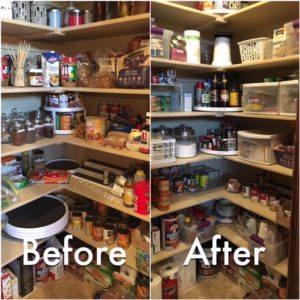 It was my pleasure to help this first time mother by taking the time to organize kitchen pantry shelves while she fed, diapered, and bonded with her new baby. We were both in our element as we each took on our very separate and important projects.
Other Articles of Interest:
Leave a Reply