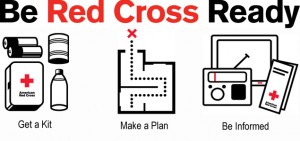 A survey was taken a while back of 666 random participants in relation to emergency preparedness. As you look over the survey results below, decide where YOU stand in relation to your family emergency plan:
Are you completely prepared? 13% (85 votes) = I know how to evacuate my home and office and I can access essential financial information. I can camp out for three days, maybe more, if I have to.
Are you somewhat or partially prepared? 28% (186 votes) = I know what to do at the moment disaster strikes (earthquake/tornado/fire/hurricane), but I know I'll wish I'd prepared better.
Are you working on a plan?17% (116 votes) = I know what to do, but I still need to get it done.
Plan, what plan? = 42% (279 votes) NEARLY 1/2!!!
I fall into the somewhat prepared group. I attended a wonderful class at BYU's education week  a month ago in my hometown of Provo, UT.
The class was taught by a fireman in Utah Valley, Tal Ehlers, who was very experienced with Emergency Preparedness. He talked about the need for a family emergency plan. He suggested a few things that might be of help to you as you consider pulling together the items necessary for survival. The unusual supplies he suggested that I had not considered as part of a Family Emergency Plan included:
__ _ __ _ __ _ __ _ __
Copies of your identity documents (vital documents) in your 72 hour kit
Some bio-degradable 13 gallon bags for sanitation concerns
A 120 volt inverter for charging things in your car while traveling
A bung wrench for opening your water barrels
A water siphon for exporting the water in your barrels
A food grade plastic hose for filling your water barrels
Some Spa Time chlorinating granules found at home depot in the spa and pool supplies department for purifying water
Once your family is prepared, it is time to motivate your neighbors to prepare. In times of disaster your neighbors will be the 1st ones available to come to your aid, and you to theirs. Find out before disaster strikes what resources you share and which can be shared.
Our city offers a free CERT training program for those who are willing to train to become the neighborhood disaster specialists. If you are a take charge person and would like to know more about being ready to live through and come out better than most  when the natural disaster strikes your area, contact YOUR city officials and sign up for their training courses.
To listen to the audio show I recorded dealing with this topic, visit The Organized Woman Show. Developing a famiy emergency plan that includes the points discussed here is very important. Just begin. YOU CAN do this!
16 Responses to "Family Emergency Plan"
Leave a Reply