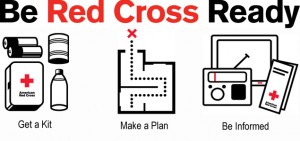 A survey was taken a while back of 666 random participants in relation to emergency preparedness. As you look over the survey results below, decide where YOU stand in relation to your family emergency plan:
Are you completely prepared? 13% (85 votes) = I know how to evacuate my home and office and I can access essential financial information. I can camp out for three days, maybe more, if I have to.
Are you somewhat or partially prepared? 28% (186 votes) = I know what to do at the moment disaster strikes (earthquake/tornado/fire/hurricane), but I know I'll wish I'd prepared better.
Are you working on a plan?17% (116 votes) = I know what to do, but I still need to get it done.
Plan, what plan? = 42% (279 votes) NEARLY 1/2!!!
I fall into the somewhat prepared group. I attended a wonderful class at BYU's education week  a month ago in my hometown of Provo, UT.
The class was taught by a fireman in Utah Valley, Tal Ehlers, who was very experienced with Emergency Preparedness. He talked about the need for a family emergency plan. He suggested a few things that might be of help to you as you consider pulling together the items necessary for survival. The unusual supplies he suggested that I had not considered as part of a Family Emergency Plan included:
__ _ __ _ __ _ __ _ __